Zatpatloans.com is an innovative way to compile traditional loan procedure, and current generations demand for less time consuming, fast, reliable service in different loan segment. "Customer first" and "Customer obsession" has always been core pillar of our business model which reflects in our testimonial from our valuable customers. Whether you looking for personal loan for wedding or renovation, study or any unexpected expenditure, shopping for the best available deal for your dream home, looking to expend your business, we are here to help you, keeping in mind, how it would felt to be in customer's shoes. Learn More
[Services]
Why Choose Us?

You will know within hours if you have been accepted for a loan.

It is our constant endeavor to provide you with the best of financial support

Zatpat loans do not charge any extra fees for any service. We Guarantee that!

We are a INDIA based company and cater towards the Indian loans market.
[Since 2005]
Experience In Business
With over 15 years of experience, Zatpatloans.com has found an innovative way to compile traditional loan procedure, and current generations demand for less time consuming, fast, reliable service in different loan segment
Calculate EMI Now!
Get exact amount of EMI with few clicks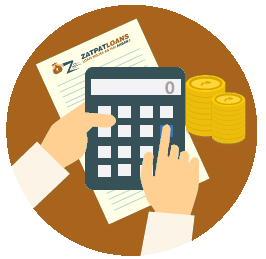 Equated Monthly Installment – EMI for short – is the amount payable every month to the bank or any other financial institution until the loan amount is fully paid off. It consists of the interest on loan as well as part of the principal amount to be repaid
[Testimonials]
What Our Client Says
Here's what our client have experienced over years working with us
I was looking for some funds to complete home renovations. I was happy with my consultant – he was knowledgable and forthright with me. I am able to finish the renovations to my home, that improves my resale value. Zatpat Loans is a stress free environment, with knowledgeable staff that are friendly and helpful – your service could not have been better for me.

As looking to have cash flow and pay lower interest rate apart from high interest credit card. I had no concerns seeking my mortgage with Zatpat Loans. We now have cash flow to help pay down the bills and bring everything together. I would recommend Zatpat Loans to others.

HIMANSHU KALSHALA
Manager

It was a lot simpler than I thought it was going to be. We have our own business and are looking to expand. I've only worked with banks before, so I had a lot of questions. The agent was very helpful and patient while explaining the process. We now have cash flow to grow our business. He was great at explaining the process. Thank you Zatpat Loans

Zatpat Loans was recommended to me by my mortgage broker. Cash flow was needed to finish renos on my home. I was extremely pleased with the service I received from the rep. She put me at ease right away. I'm now able to improve the quality and comfort of my home. Thank you so very much for everything you've done for me.